(FR) La version française est disponible ici.

Hitohira SAITO Sensei (formerly known as Hitohiro SAITO Sensei – read further) was born on the 12th of February 1957 in Iwama, in the Ibaraki prefecture of Japan. He began Aikido training at the age of seven under the supervision of Master Ueshiba, the founder of Aikido, and his father Morihiro SAITO Shihan.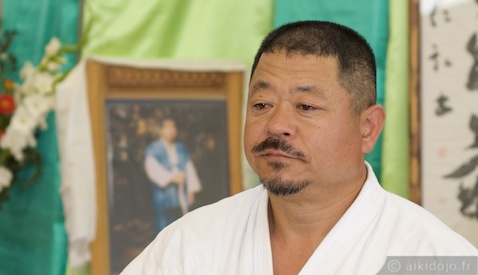 SAITO H. Sensei – 06/2008 – International seminar in Portugal
« We preserve and share the great influence of my father Morihiro while remaining faithful to the technical and spiritual heritage left by the Founder Morihei Ueshiba. We continually try to improve ourselves through the intensive and systematic practice of kihon, and we believe each training session is a unique opportunity to feel closer to the Founder. I firstly apply this permanent training to myself. »
– SAITO Hitohiro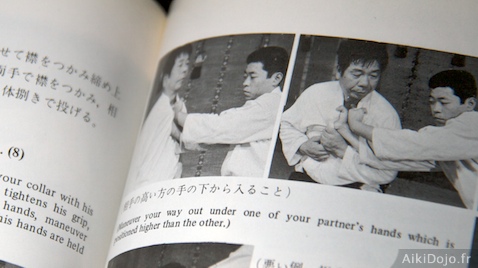 The young Hitohiro Saito partnered with his father Morihiro Saito
Sensei in his father's books (shown here in Vol. 4 « Traditional Aikido
– Vital Techniques » from 1974).
Hitohiro Saito Sensei enrolled in a cooking school to train as a chef. He spent one year in Sendai and then two in Osaka, where, as well as his culinary studies, he trained at the Aikido dojo of Abe Seiseki Sensei, with whom he also studied the art of calligraphy.
In 1978, he finished his studies and returned to Iwama where, with his father's help, he opened a restaurant. This was built just a stone's throw from the Aiki Jinja and the Iwama dojo (the Ibaraki Dojo, or Aiki Dojo), on land that had been gifted by O'Sensei UESHIBA to his faithful student Morihiro Saito Sensei. (Note – a page devoted to the Aiki Dojo and the Aiki Jinja in Iwama will be available soon at Aikidojo.fr)
Seven years later, he decided to leave the restaurant trade and concentrate fully on the study and teaching of Aikido. Whenever his father had to leave Iwama, Hitohiro SAITO Sensei would replace him, taking over the direction of the Aiki Dojo and caring for the Aiki Jinja. He also taught one course per week in Tokyo at the Yoyogi Uehara Dojo (Iwama Ryu Aikido).
In 1986, in a special ceremony, Hitohiro Saito Sensei was officially appointed as a teacher at the Iwama dojo. In the same year, he began to teach overseas.
By the end of the 1990's, because of his father's poor health, Hitohiro SAITO Sensei took on more of the running of the Dojo in Iwama, teaching special courses for many Ushi Deshi and Soto Deshi, and managing and administering the dojo. His father, Morihiro SAITO Sensei, was by then teaching only morning classes, Sunday classes, and at national and international seminars.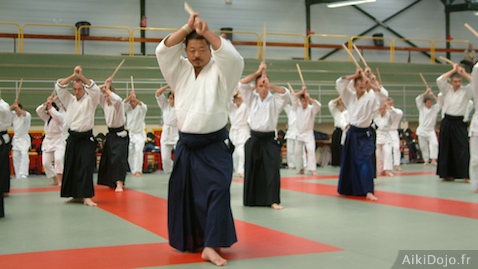 Hitohiro Saito Sensei was invited by Daniel Toutain to direct an
international seminar in Rennes (France) in November 2003.
In May 2002, Morihiro Saito Shihan died of cancer. The Aikido world lost great master. Hitohiro SAITO Sensei, became his father's worthy successor at the founder's dojo.
National Geographic produced a documentary on Aikido in 2004. A team of reporters filmed Hitohiro SAITO  Sensei in action several months earlier, in the Iwama dojo:

In October 2003, differences arose between the Ueshiba family and Hitohiro SAITO Sensei. The latter decided to leave the Aikikai, of which he was a member, and return the keys to the dojo. He founded the Iwama Shinshin Aiki Shuren Kai school in February 2004 with the aim of preserving and disseminating the techniques of the founder's Aikido (Taijutsu, Aikiken et Aikijo) following, in this way, the footsteps of his father. (note – The letter written by H. Saito Sensei at that time
will soon be available on-line at Aikidojo.fr).
In parallel, he also taught Shurikenjutsu, in the « Negishi Ryu » style that his father had mastered, and practiced ChinKon meditation in the manner of the founder.
Since then, he has been teaching in his dojo in Iwama, the Tarenkan dojo, where students come from the four corners of the world. He also directs Aikido Iwama Ryu seminars in Europe, America, Asia and Australia.
His wife and sons study Aikido at his side.
His mastery of Aikido techniques is sensational and comprehensive, the very image of the person that he is. Hitohiro SAITO Sensei has a strong personality that will not leave you indifferent. On the tatamis, he exudes energy and motivation, which he conveys to his students. A straightforward man, he laughs heartily, sometimes at himself, but he can also be very persuasive when corrections are required. He is happy to share his experiences of other martial arts and help westerners to better understand the Japanese culture.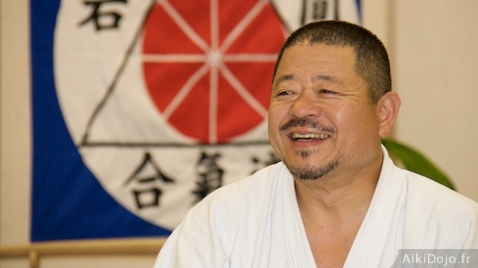 Hitohira SAITO Sensei during a seminar at Arvika (Sweden – May 2005)
As is sometimes done in Japan, Hitohiro SAITO Sensei re-baptised himself Hitohira (仁平) in 2009.
仁 signifies humanity, virtue and charity
平 = signifies horizontal, peace (this character is also used in the first name of the founder: Morihei: 盛平)
Hitohiro SAITO Sensei is an artist in many respects: a fine chef, a calligrapher and a talented sculptor. He enjoys making Nomen (traditional Japanese masks used in theatre) in his workshop).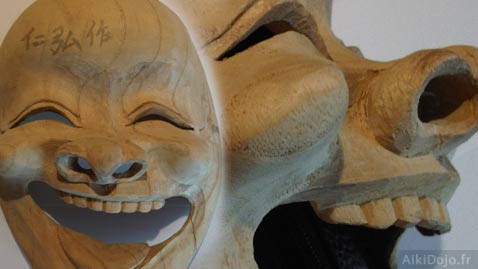 Sculpture (Nomen mask) made by Hitohiro Saito Sensei in 2004 and given
to Nicolas Joliot. Photos by Nicolas Joliot for AikiDojo.fr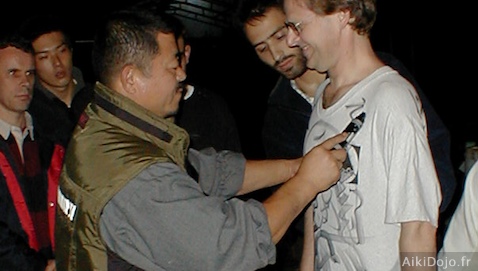 Hitohiro Saito Sensei drawing a Bodhidharma design on the tee-shirt of
an Ushi Deshi, freehand and in good humour – Iwama (Japan) 10/2001.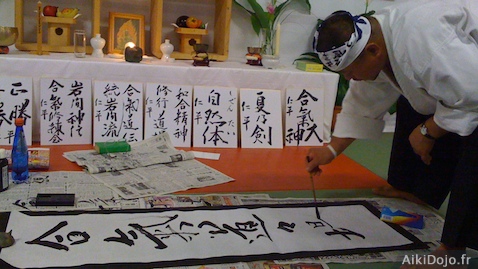 Hitohira Saito Sensei doing one of the 20 calligraphies in profit to Philippines
after Ketsana Typhoon (here « Aiki Dojo » for Aiki Dojo Azur)
– Turino (Itally) 10/2009.
[flickr-gallery mode= »tag » tags= »hitohiro » tag_mode= »all »]
---
Many thanks to Tristão DA CUNHA Sensei (PT) for his precious information and to Nicolas JOLIOT (UK) for his photographs and help in producing this page.
Kind translation in English by Blair HALL (NZ).
Publiched 12 septembre 2009 – Last Updated on 1 juin 2016 by Eric Savalli / Aikido Blog .net