[FR] Version française ici :
Ecrit de O'Sensei – Calligraphie de SAITO Hitohira Soke
[PT] versão em Português aqui :
Ensinamentos de Saito Sensei em Rennes, 2014
[EN] English version is here:
O'Sensei words – Calligraphy by SAITO Hitohira Soke
[IT] Versione italiana qui:
Palabras de O Sensei – Caligrafía de Saito Hitohira
Durante el seminario internacional en Rennes con Kaicho SAITO Hitohira [EN], se examinaron algunas de las palabras de O Sensei. El hijo del fallecido Saito Morihiro Sensei y su sucesor en Iwama explicó el significado de esas palabras y por qué tienen tanta importancia en Aikido…
Es justo señalar que la traducción original del japonés la realizó Nicolas JOLIOT Sensei durante el Seminario.
He aquí su significado
…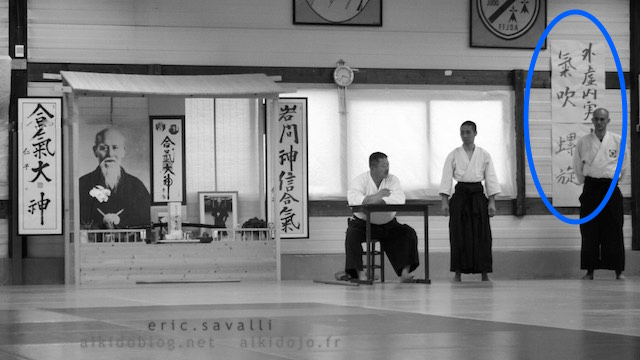 and big thanks to my friend Nicolas JOLIOT for providing us the details…
外虚内実気吹: GAIKYO NAIJITSU KIBUKI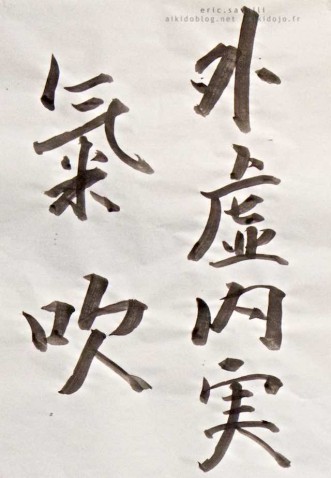 外: GAI, fuera, externo
虚: KYO, hueco, vacío
内: NAI, interior
実: JITSU, verdad, realidad
気吹: KIBUKI, el fluir del Ki / Kokyu
No te preocupes del mundo externo; lo que realmente importa es tu mundo interno y el fluir del Ki se centra primeramente dentro del cuerpo, presurizando las áreas claves como tu Hara y tu centro (N. del T.: habla del "hara" y del "centro" como dos entidades separadas). Esto es lo que realmente haces durante la  meditación / Chinkon y en el San no Suburi.
---
上虚下実螺旋: JOUKYO KAJITSU RASEN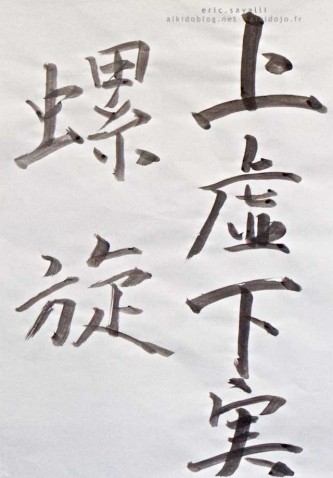 上: JOU, arriba, encima
虚: KYO, hueco, vacío
下: KA, abajo, debajo
実: JITSU, verdad, realidad
螺旋: RASEN, espiral
La parte superior del cuerpo está relajada; la potencia y la fuerza provienen de la parte inferior del cuerpo, lo que incluye el "hara", las caderas y las piernas. Entendiendo esto, la potencia se expresa en las técnicas de Aikido empleando espirales. Estas espirales [see point 4]. se generan partiendo del centro en múltiples direcciones. Para aplicar una fuerza dirigida hacia arriba como en "ikkyo" es necesario hundirse empleando una espiral descendente.
---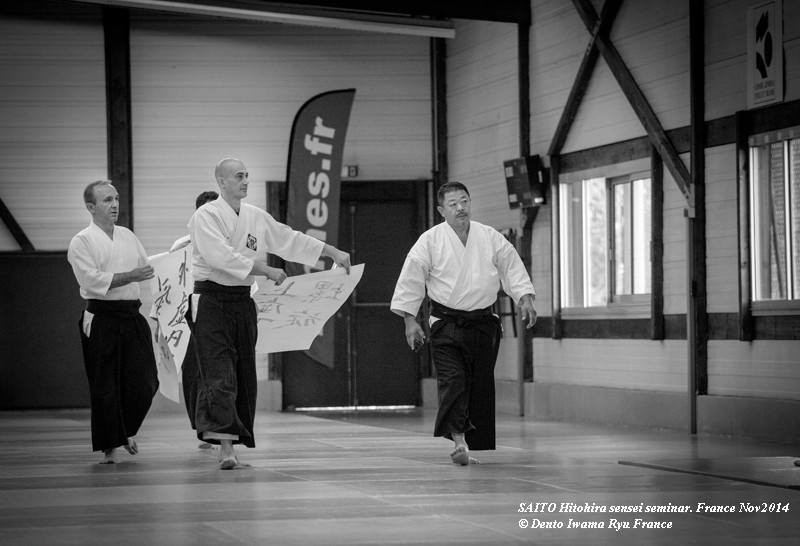 Grazie a  [Alejandro Villanueva] per la sua traduzione in AikidoLiena.